HGM Ultrafine Mill is a new type grinding equipment with optimum structural design developed for the ultrafine powder industry by our Hengda Mining Machinery Co., Ltd. It is applied to the processing of nonmetallic minerals with the water content less than 10% and the Moh's hardness under6, such as calcium carbonate, talcum, barite, wollastonite, feldspar etc. It is mainly composed by feeding machine, main engine, grader, pulse dust collector, high pressure positive blower, electronic controlled device and other parts.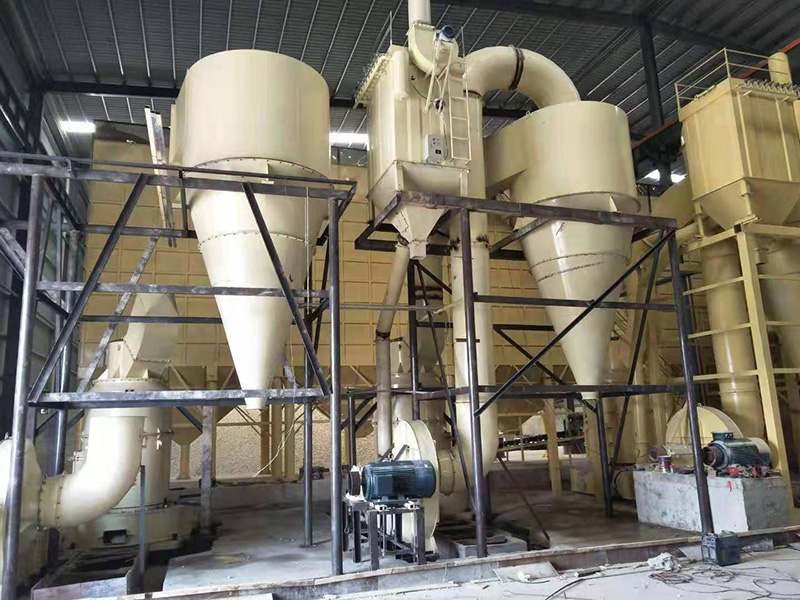 HGM Ultrafine Mill Working principles:
Reasonable gap is designed between the grinding roller and shaft pin installed on the grinding roller bracket. When the roller bracket revolving with the main shaft, the grinding roller compresses the grinding ring under the function of centrifugal force and rotates with the shaft pin because of the force of friction. The minerals are quantitatively fed into the dumped material plate of the upper main engine and thrown all around uniformly. Under the force of gravity, they receive multistage impact, extrusion, grinding and then be pulverized. Materials after being ground drop on the following layer dumped material plate and blew by airstream and conveyed into the grading room to be graded by the negative pressure airflow produced by the air blower. Qualified power will enter into the collecting system and become finished products through grading rotor while the coarse powder will drop into the pulverizing room to be pulverized under the function of the centrifugal flow field. The whole vertical type delivery system operates under the full negative pressure and no flying powder phenomenon occurs. It has the advantages of high grinding efficiency, high grading accuracy, high reliability, high clean working environment and small vibration.
HGM Ultrafine Mill Technical features:
1. Reliable operation of the grinding chamber: compared with common grinder, this HGM Series Grinder does not have antifriction bearing and bolt inside of the grinding chamber, so problem caused by the bearing and other sealing element will not occur and the problem of machine failure caused by the loose bolt can be avoided.
2. Long time used of the quick-wear part: all the quick-wear parts adopt high-quality wear-resistant materials.
3. Convenient maintenance: HGM series ultrafine main engine has shifting unit and does not need hoist the grader, therefore, the maintenance is convenient and efficient.
4. Double support rigid structure: the grinding roller and grinding ring will not move.
5. All-around feeding and high efficiency.
6. Compared with the same type machine, it has the features of small vibration, convenient maintenance, highly reliable quick-wear part, low operation cost.