HD series raymond mill
Input size: 20-35mm
Output size; 80-600 mesh
Production: 1-60T/H
Materials: limestone, calcite, dolomite, barite, talc, calcium carbonate, gypsum, bentonite, kaolin, petroleum coke, coal etc.
Mature and Stable technology
More than 10 years of experience in grinding mill manufacturing, 4 generations of mills mature and change; bevel gears overall drive, powerful power; using roller linkage boosting technology, the output is increased by 20% under the same power.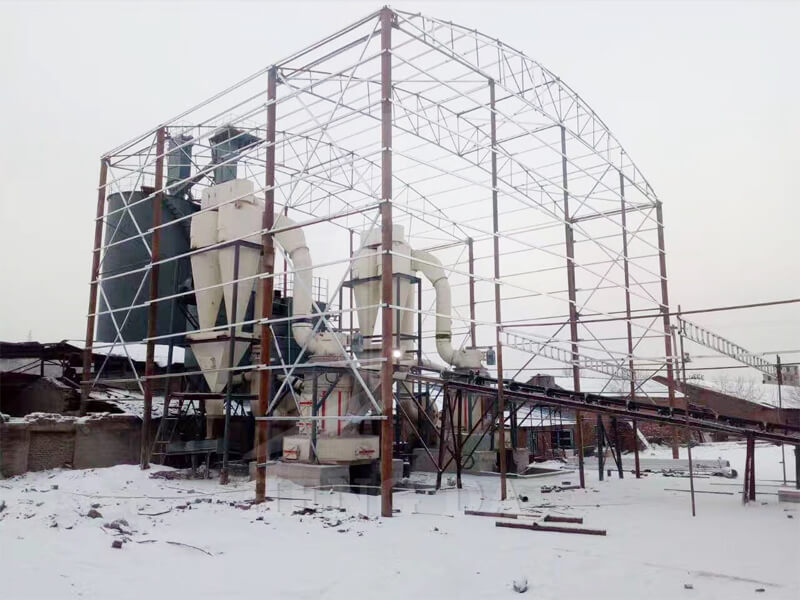 Energy saving and environmental protection
The raymond mill's fan, spindle drive system and fan traditional system are all lubricated with thin oil. The oil change period is about 4 months, the oil change period is long, the cost is low, and the maintenance frequency is low. Through the environmental certification of industrial products, the air self-circulation system and the dust collector are both in a prong, meet national environmental requirements.
High return on investment
Modern country technology, national patents; The raymond mill can grind a variety of minerals to meet a variety of particle size requirements; low infrastructure costs, low operating costs, stand-alone processing capacity of up to 60T /H, high return on investment
Scientific configuration , reduced energy consumption
The new hanging type cage type powder sorting machine, variable frequency control, fine controllable finished product; isolated cyclone powder collector, high efficiency of collecting powder; curved air duct, small airflow resistance, not easy to block material, fan efficiency improvement; curved surface can be the blade-changing blade has a low wear rate and high utilization rate; the non-resistance air inlet volute + the same resistance arrangement scheme reduces the economic loss caused by the system energy consumption.
Working principle
The qualified materials after crushing are uniformly and quantitatively fed into the main machine grinding chamber through the variable frequency belt feeder for grinding. The material after grinding is sent to the classifier by the fan airflow for classification. Under the action of the analyzer, the materials that do not meet the fineness requirements fall into the grinding chamber and are re-ground. The qualified materials enter the cyclone collector with the airflow through the pipeline, the separation and collection are carried out, and the discharged powder is discharged into the finished product. The separated airflow enters the fan through the return air duct of the upper end of the cyclone. The system operates under positive and negative pressure conditions, and the raymond mill is equipped with a pulse dust collector, which is in line with national environmental protection standard.